25. October 2016
Worried about getting bored in Ljubljana? Don't be, at all. Although Europe's smallest capital with barely more than 270.000 inhabitants, Ljubljana is full of invaluable treasures you couldn't even imagine. And there is one for everyone's taste. Want to discover them? Then check out this (non-exhaustive) list of Ljubljana's invaluable treasures.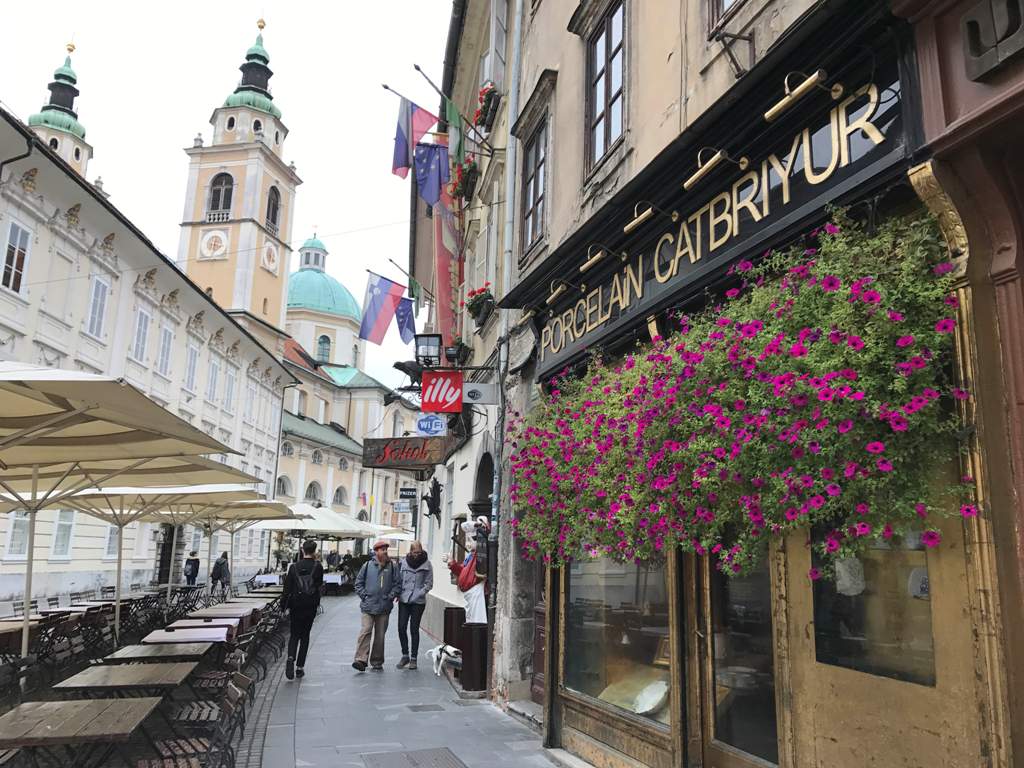 I decided to visit Ljubljana in a weekend, which is probably the best duration for a quick (but intense) visit. If you want to take your time by rambling quietly through the streets or visit museums, stay for 3 days.
My first encounter with Ljubljana was as true thunderbolt: as powerful as unexpected. In fact, before my arriving, I read a lot about the city and its attractions. But, surprisingly, nothing happened as planned: it was better. Knowing the rich historical stamp left on the city, I was expecting, although beautiful sites to see, running out of things to do during my stay. And I never was so wrong.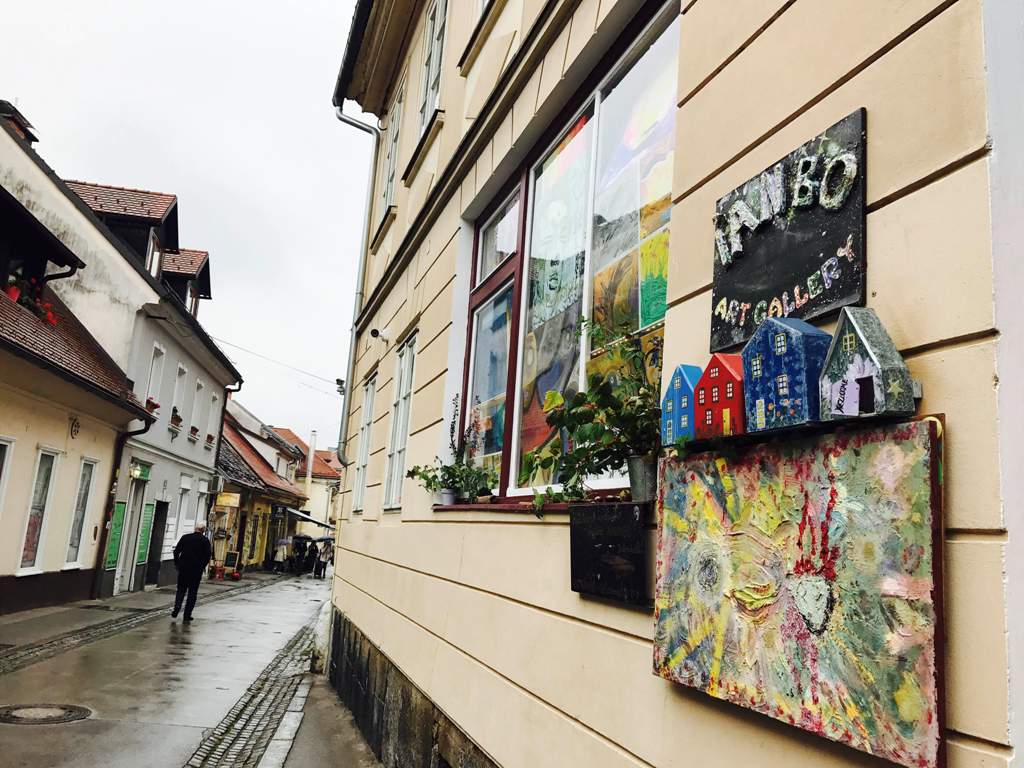 First stop: unexpected meeting with art in the Ghetto Sculpture
Just after few steps at the east of the city center, my eyes met a strange colored man standing against a long wall sprayed with graffiti. Its special feature? He was made of rubbish and recycled materials. And he was just a prelude of what was hidden behind him. To all open-minded, artistic and curious people: Welcome to the Ghetto Sculpture. Unidentified objects coming straight out of the fantasy; graffiti worth of a real piece of art and all kinds of objects (from a sofa to animal skin) are scattered all over the place. In talking about the place in itself, it is actually a spot with more than one function. Besides being a place for artistic expression, it is also a skate park, a social housing, and a meeting point for alternative music amateurs. However the purpose, it is really worth to stop by.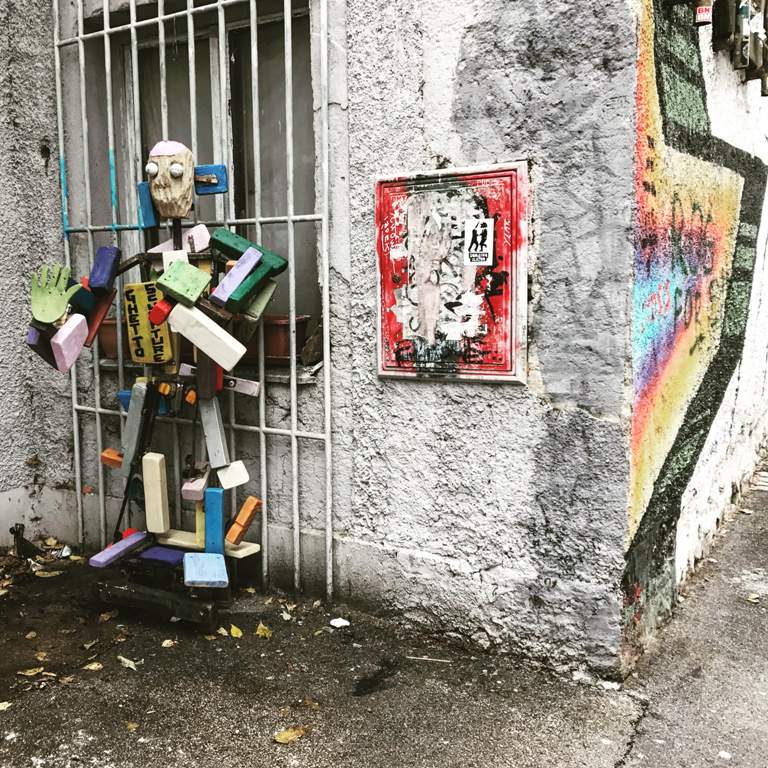 Did you say "flying shoes"?
Another crush was Trubarjeva Cesta. There couldn't have been a better way to join the city center. Want to be surprised all along this mysterious street? Then be attentive, because oddities are mostly in the places you'd at least expect! It is also the right place if you are looking for souvenirs from Ljubljana. Whether bizarre home furniture, second-hand shops, art galleries, or the Slovenian-Serbian club (antiquity shop); you won't be deceived. It is also an opportunity to take a break in one of the charming restaurants boarding the street: a perfect way to meet with locals.
But like the saying goes, "save the best for the last": look up! No, you aren't dreaming, tens of shoes are suspended over this cable. The meaning of this "shoes tossing" is unclear, but one suggests that students are doing it to celebrate the end of their exams. Overtime, it has become part of the street art characteristic from Ljubljana. Now, open your eyes: what can you see?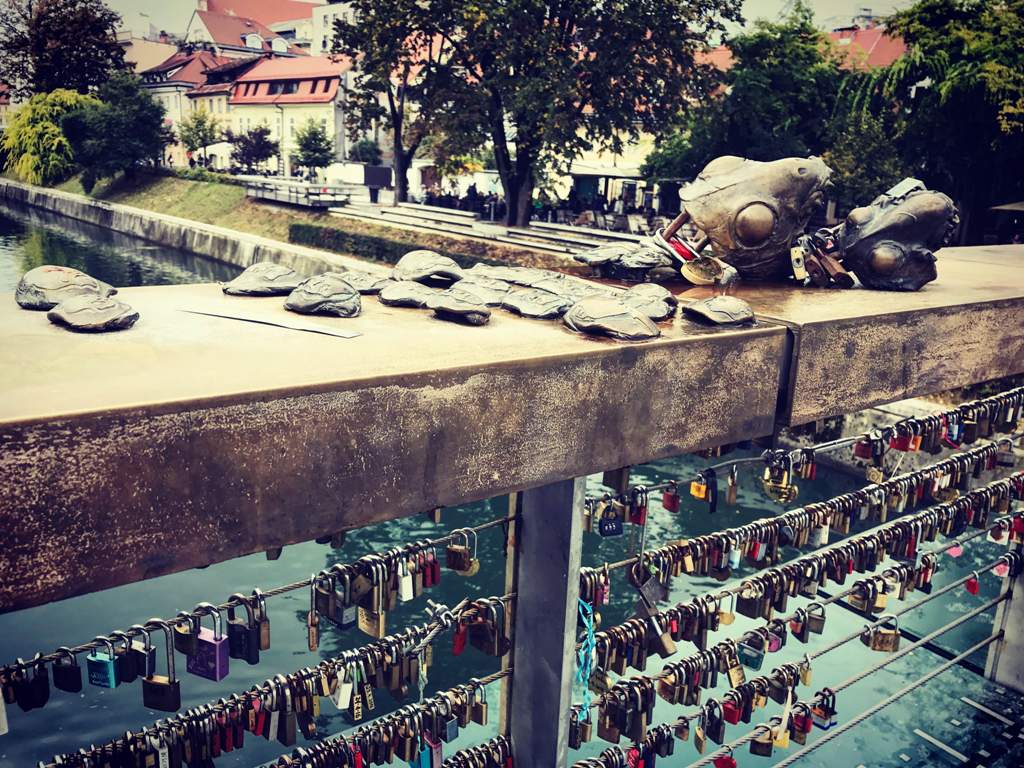 Regenerating walk down to the Botanic Garden
Obviously, I wanted to see from my own eyes this exclusive view over the city from the medieval castle overhanging Ljubljana for some 900 years. To reach it, you can even walk, or take the Funicular. I took the first option. If you are courageous too, then take a deep breath and… Heave ho! It is worthwhile as it is an opportunity to get deeper into the heart of the city. Once you reach (with effort) the top of the hill, the view is, indeed, stunning. What struck me the most when seeing the city from above was the evident imprint of the past left on buildings and monuments. Just before your very eyes, unfolds Ljubljana's History from its most painful moments, to its modern growth. What a strange feeling. After that, go down the hill and take a glance at the University Botanic Garden, which plays an important role in the preservation of rare and endemic species.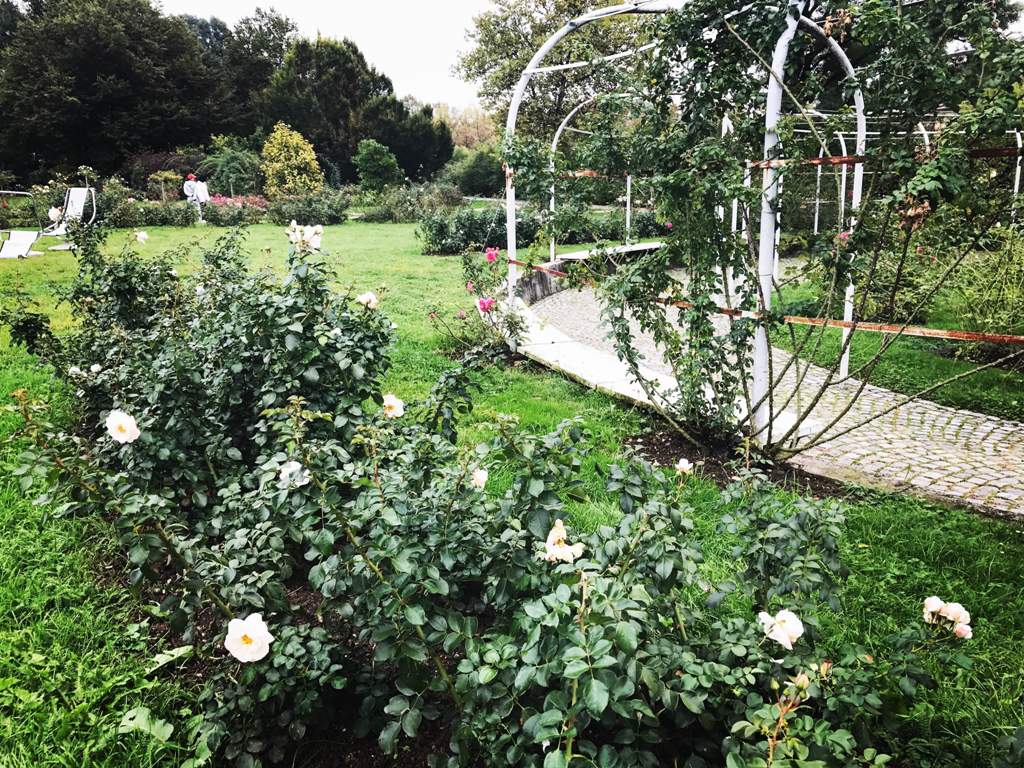 Tivoli Park: the lungs of the city
This part of the visit is inescapable. A place of 5 square kilometers, bigger than New York's Central Park, located in the smallest capital of Europe. What a paradox! Nature lovers, this is a paradise designed just for you. Once you penetrate it, you are in a world apart. I appreciated this peculiar relaxing atmosphere while walking through flowerbeds, large photographs exhibition, and contemplating dogs playing happily with their masters. Don't forget to take a broader look into the Rožnik Hill, accessible by many forest roads. Here, the title of European Green Capital becomes even more meaningful. Just do yourself a favor by experiencing this revitalizing walk full of plants and wildlife. Oh, and a last advice: be quiet, some hungry squirrels might cross your path!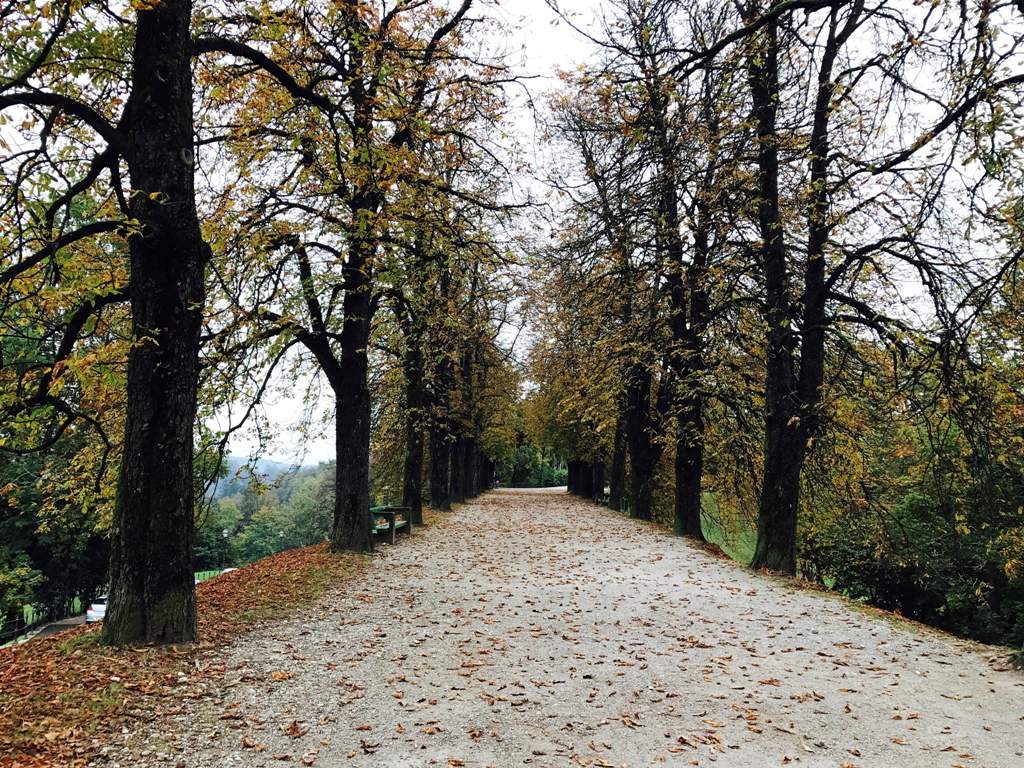 Metelkova, Berlin's little sister
As the setting sun glows on the horizon, another form of living emerges. An alternative (anti) cultural place of tolerance awakes, proud of its win against political and authorities repressions (though its future remains uncertain). This illegal occupation of former military barracks has given birth to a unique place made of artistic studios, art galleries, clubs and live music spaces. In this self-declared "Autonomous Cultural Zone", you won't remain alone for a long time. Besides its multiple graffiti and other artistic works, it is a great place to socialize as it welcomes people of all ages and of all kinds. As soon as I got into an odd setting bar, a Slovene guy asked friendly to join my friend and me. At Metelkova's, I learned more about Slovenia's historical past than in any other museum or Wikipedia page. Local people are proud to share their passion for their beloved country, and ensure that you have a good time with them. The place is also worth a visit on daytime, to contemplate the bizarre and fascinating artistic creations, in the company of occasional tourists and some regulars. If you want to prolong the experience, I truly recommend the
Youth Hostel Tabor
, just a few meters away from Metelkova. In the heart of the city center, it is close to local transports and Ljubljana's vibrant nightlife.
Did this pick your interest? Then pack your bags, and experience Ljubljana by yourself. There are still well kept secrets to find out…